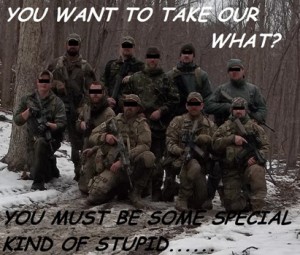 After much discussion with several friends of mine, we decided to attend the MVT CRCD Class of Feb 1/2, not expecting great weather for this class and actually looking forward to some snow and the fact that we already train in all weather types anyways, unlike many in the "Patriot" community who are "fair weather Patriots", we signed up for it and started making plans.
Max sent us our info packets which was very informative and helpful to help us prepare for bringing what we need to the class. I found inside the packet a the motel of which we stayed at, it was the "Koolwink" in Romney. The gent who checked us in was very nice and helped with eating recommendations. Upon getting into the room I was impressed as to how clean it was and the size, wow, very nice, frig, coffee pot, nice, being that there we're 4 of us everybody was comfy, being one of us slept in the floor on a make-shift bed pallet. There was plenty of snow on the ground for our little adventure there in the foot hills of West Virginia for our training. Saturday morning found us meeting up with Max and the others at the specified location and we're lead back up into the training parking area, where we got all our stuff out and Max ferried us back, several hundred yards to the actuall training location. We had brought John Mosby to our location in 2012 and didn't really know what we would find with Max and his style of training.
What we found was incredible, his approach, his method and his debrief, his facility. I'm not going to tell you what all we did (if you want to know what we did, then sign up for it) it was a crappy weather weekend, snow, mud, some wind and cold made for fantastic training conditions. Max has poured a lot of blood sweet and tears into his training facility and MONEY! The jungle walk was one of my personal favorites out of the individual things we did, as well as pissing Max off and making me do "Heartbreak Ridge" for not telling him about my constructive criticism when he asked me too, during one of our breaks and making him wait until last thing Sunday, which is when you do your AAR's on him (LOL). The squad bunker attack was my other favorite thing we did for the weekend, that was frigging awesome!!! Max gives you a good taste of what it's like to be in the infantry with his style of training and any "Group" out there will take back some serious fundamentals and train on it with their own group and pour some heart & soul into it, they will do good with it. Basic mechanics for a foundation to build off of. We had already been through the "PT Shock" with "MG" when he came to our place in 2012, so we had all been PTing prior to this class. Some of the guys there had a reality check with what it takes to do this with inadequate levels of PT, it's HARD. We also met some great folks there, SC boys, Ohio Boys and F. I was ready personally for the physical challenge, even for "Heartbreak Ridge".
In Max's debrief with you, once you run a drill, he tell's you directly as an individual where you went wrong and what to focus on, the same goes for the team drills we did as well. I highly recommend this class, Max is a GREAT instructor!! He is thorough and sharp. Max in his presentation is also clear, with MUCH dry eraser board time and then his personal demonstration of what he is telling you what to do and how to do it. He also uses magnets which is a great idea on the board showing you how the drill will go down. We also did many dry runs through the drills before we did actual "Live Fire". The money, time, drive, weather was ALL WORTH IT, you will NOT be disappointed with what you get for your money. Show up with your head right for this game though, there is more thinking to this than most understand. Do yourself and your community a favor and take this training to be prepared for the coming future events……the NWO are coming, God Bless
                                                TacticalM4
Max Velocity is a tactical self-defense trainer and author providing instruction and advice for those preparing for disaster survival and societal collapse situations.