A quote from my recent post 'Sailing Away – Comment' was used over at WRSA for 'quote of the month':
"…Much as it would be great if there was a battle line of freedom to join, there isn't. There is a mass of overweight selfish entitled citizenry, the statists/tyrannists, some selfish preppers, and small groups of actual liberty minded warriors. So it's not as if you are deserting something (other than the ideal of America), because there is no network or army, or group, to actually desert. It's just a bunch of bickering people on the internet. I wish it were otherwise…"
This set off a storm of comments, with some questioning what my definition of a 'selfish prepper' is, if it applied to them, and if I was intimating that they needed their stuff stolen, by myself or others. (I was also described as a 'pirate' in a previous comment ton WRSA, by a very ignorant commenter).
The 'selfish prepper' (as well as the retreat sniper – a related concept, or often the same person) has become a bit of a theme on this blog so I am copying in one of the comments and my response, below:
From what I've come to understand from Max's writings, the selfish prepper is a guy who doesn't view the bigger picture, does nothing to help beyond his own purview. This in my opinion is what Max goes on to imply makes that person a liability in that they will do what is good for them and if that includes betraying a resistance movement then so be it.
I don't think it's a case of 2 for me and none for thee and fatty apex predator shit. So don't worry about your mountain house and your goats being stolen, raped and killed (not necessarily in that order either) and think more OPSEC and lose lips sinks ships.
Your comment is awaiting moderation. 
EXL: That's it.
But I support liberty, so I am not going to try and force people to fight, or help. Each to their own. I have also been accused on this site of being a 'pirate' which is not the case. I offer no threat to those who choose to hunker down. I am simply calling it what it is – selfish, in terms of the cause of liberty and any upcoming fight. Now – and be careful to read what I am saying before you go off – I have also stated that if we can't get together as team, then the 'way of the selfish prepper' may be all that is available to us anyway. All trying to hunker down and keep our families alive. And all picked off individually.
My focus is on TEAM.
And TRAINING.
That is what I am banging on about.
At the end of the day, if there is no FreeFor as such to join and fight with, and I can't trust to have my family kept safe when I put on my ruck and go to the rally point, then I won't go. I will be the selfish prepper, protecting my family in my retreat, or wherever suits, as best I can.
If you don't like being called selfish, but you are indeed selfish, the word sympathy sits between shit and syphilis in the dictionary. Suck it up buttercup. A lot of people in our society are very selfish. Being a 'rugged individual' is not always best. Teaming up for a common cause is not communism! It could be the case that people's very strong opinions (as often exhibited here) on individual freedom will mean they can never reclaim that freedom, because they will never 'submit' to any discipline that would allow a team to function in any military sense.
There is more on my opinion on this at my blog: maxvelocitytactical.com/blog.
So there it is, pretty much. Unless we organize and look to ways to protect the families, there will be no FreeFor.
I wrote 'Contact' for preppers, to help them survive . But the book moves on from the individual and family to larger community defensive groups and Resistance groups. Freefor.  It was recently pointed out in a comment that Matt Bracken's view of tyranny/collapse/civil war may be more realistic than mine in 'Patriot Dawn' simply because he writes about small groups and individuals and not larger Resistance groups such as I write about. I'm not disagreeing – the point is that 'Patriot Dawn' is a manual in disguise, and it is meant to show how it could be done (with a few mistakes thrown in for learning) if groups could be created and trained. So maybe Bracken's books  could be viewed as the 'come as you are party' with 'Patriot Dawn' as the 'standard to aim for'?
And if you can't even be bothered training, maybe because you can't be bothered with the PT, I refer you to a recent comment from Mosby:
"I see a lot of guys respond to suggestions to do more PT or other training with the idea that "Training is too hard. I'll just sit on my hill and die."
 Like Julius Ceasar, I think that's a coward's approach. Take it how you will."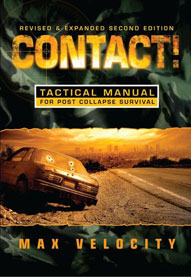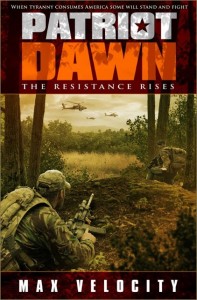 Live Hard.
Die Free.
Max
Max Velocity is a tactical self-defense trainer and author providing instruction and advice for those preparing for disaster survival and societal collapse situations.